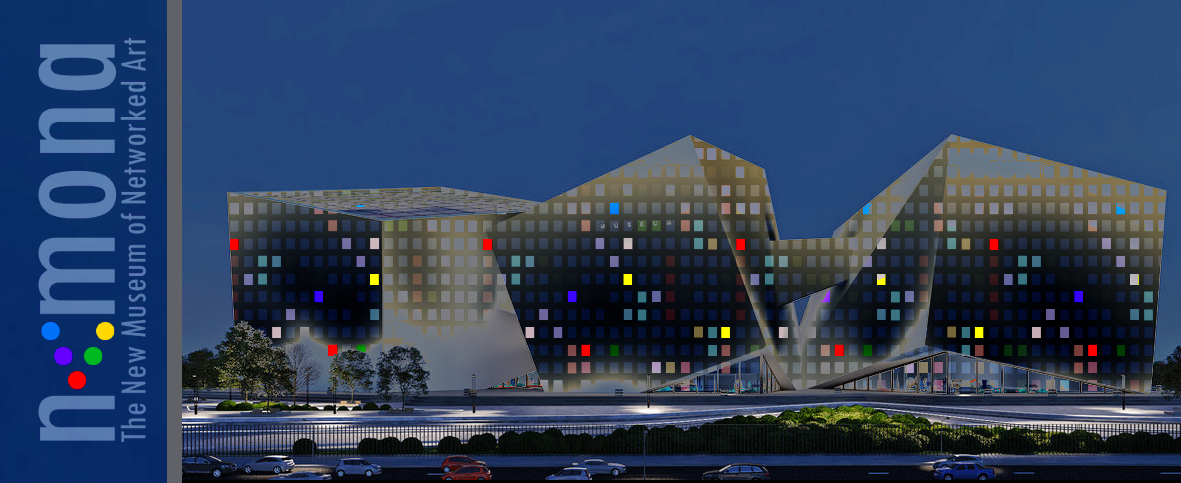 The New Museum of Networked Art
aka the NewMediaArtProjectNetwork://cologne,
also named "Le Musee di-visioniste"

is the manifestation or visualization of an Utopia, the Utopia of Agricola de Cologne. Thus the basis is representing an artistic, respectively philosophical concept, which cannot compared with anything else.
Founded/initiated as – NewMediaArtProjectNetwork://cologne (abbreviated as The Network) in 2000, in the beginning of the museum was standing this new media initiative as an dynamic art project, which was represented in different manifestations in the beginning exclusively online, later in an exchange between virtual and physical space, already in 2001 at prestigious digital art contexts like – FILE – Electronic Language Festival Sao Paulo, Ars Electronica Linz (Austria), Art on The Net/Machita Museum of Grafic Arts (Japan), Boston CyberArt Festival and Videoformes- Digital Arts Festival Clermont-Ferrand/France, preparing the basis for the later museum through initiating and realising a wide range of globally networked art projects, representing the networked initiative operating from Cologne – 2002 also at Ars Electronica, FILE – Electronic Art Festival, Museum of Contemporary Art Chicago (USA) and Videoformes Clermont-Ferrand (F), in 2003 NewMediaArtProjectNetwork://Cologne, respectively its creator Wilfried Agricola de Cologne, became co-curator in INTERACTIVA – New Media Art Biennale Merida/Mexico & Violens Festival Tabor (CZ) which was a starting point of a new type of networking, besides its representations at FILE – Electronic Language Festival Sao Paulo, Videoformes – 18th Video and Digital Media Festival Clermont-Ferrand (France) and Media Arts Festival, Tokyo Metropolitan Museum of Photography.
2004 was a particular year, starting the presentation of The RRF Project at the newly inaugurated National Museum of Contemporary Art in Bucharest/Romania and later in September 2004 @ BEAP – Biennale of Electronic Art Perth/Australia. While until this date -The Network – was mainly dedicated to the diverse forms of Internet based art (netart), it was the RRF Project – starting 2004 @ BEAP which was introducing different streaming media channels – featuring videoart and soundart – at a time when the technological development did not allow real qualified Internet streaming, yet – generating consequently the exchange between virtual and physical space, by inaugurating 2005 CologneOFF as the international videoart festival based on global networking, and – by doing so starting the huge video/film collections.
Already in 2010, the "NewMediaArtProjectNetwork://cologne" was conceptionally and formally transformed into "The New Museum of Networked Art", because the festival retrospectives on the past 10 years – NewMediaFest 2010 – allowed such perspectives to the future.
The years between 2010 and 2020 were incredible in many concerns, because The New Museum of Networked Art was rapidly growing through global networking – a certain kind of positive globalization, on the other hand, after 2016 a kind of counter-movement started to disturb this idea/concept by rethinking a lot of ancient values – causing intolerance, exclusion, nationalism, neo-fascism and – global conflicts instead of avoiding them.
NewMediaFest 2020 was taking the retrospective view on the past 20 years since the initiation of Agricola de Cologne's networked activities by creating a new museum within The New Museum of Networked Art – "WOW retro – The 365 Days Museum – All in One" – networking everything with everything.
The New Museum of Networked Art